To give Limburg wine growers an insight into the works of viticulture in Wallonia, EMR Wine & Eddy leclere (Studiekring Guvelingen) organised a 2-day trip to some progressive wine estates in Wallonia.
The 2-day started on Thursday 3 August from the Horticultural School Hasp-O Stadsrand in Sint-Truiden. First on the agenda was a visit to Vin de Liège. A lunch of Boulets Liègeois was enjoyed at Domeine Bellum Fagetum in Chaudfontaine. In the afternoon, the group visited Le vignoble Clos Grande Mormont wine estate in Houffalize, managed by Luc Vanstraelen. The day ended with an aperitif and BBQ at 'Le Fleuriste Priorie', followed by an overnight stay at Hotel Vaya Mundo in Houffalize. This day offered an insightful and tasty start to the trip with a focus on sustainable viticulture and social commitment. Curious to see what the next day would bring!
After a successful breakfast, participants left on day 2 for Lustin to visit Chateau Bon-Baron. The final wine estate of the tour followed in the afternoon, wine estate Chateau de Bioul. As a finale, the group of Limburg winemakers were able to enjoy a relaxing boat trip on the Meuse and visit to Namur. It was a super experience!
Some atmospheric images: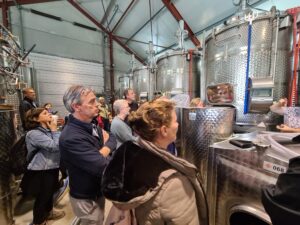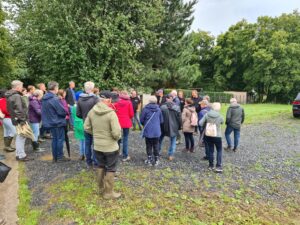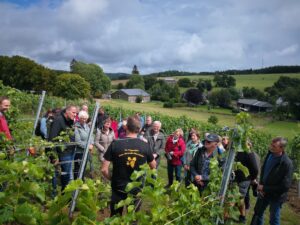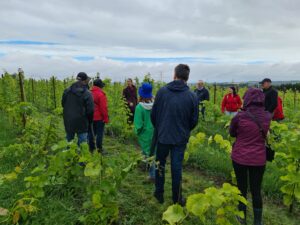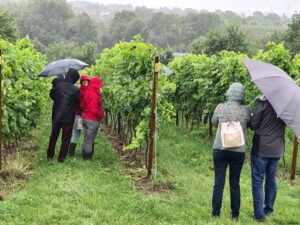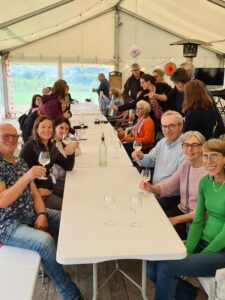 Hereby we would also like to thank everyone who joined us on the 2-day event. Thanks further to study circle Guvelingen, in particular Eddy Leclere, Interreg Meuse-Rhine, Michel Delrée CPFAR, PXL Expertise Centre Innovative Entrepreneurship, Yuverta Trial Centre Fruit Growing and Chateau Bon Baron.